3995 views
My GoToMeeting Review

Gotomeeting Review & Overview
The online conferencing market has continued to grow at a fantastic rate despite the recession. The maker has been increasing by about 30% year on year and the market leader, GoToMeeting, has enjoyed a near 50% year on year growth. The reasons for this are clear; compulsive cost cutting and incentives for greener technology have made meeting online significantly cheaper and painless than the cost of travelling in person. Though there is still something to be said for shaking a clients hand in person, such is the quality of high bandwidth solutions that web conferencing makes more sense than ever.


It turns out that you can try Gotomeeting for free for 30 days!
Anybody is eligible for the free trial, so if you want to give it a go, try it free here.
Remote access solutions have been around for alot longer, I still remember getting tech support from pcAnywhere on Windows 95 and map out a where online conferencing might go. At first it was the larger corporations who embraced the technology, but as costs went down and interfaces became easier smaller buisinesses started to install the technology. Now it is common for home users to pay for remote access packages, or to Microsoft Remote Desktop which comes included with the majority of todays PC Installs.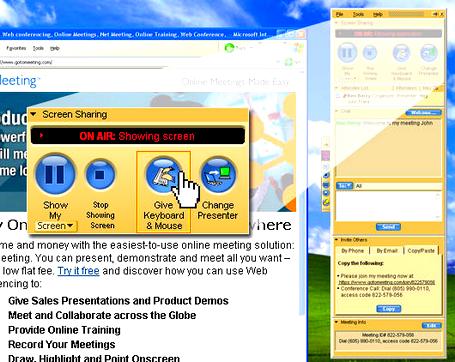 (Above: a screenshot of the gotomeeting interface)
There are two major barriers to the online conferencing market, however. Firstly is reliable internet connections, a particular problem in some countries, and cost. Both of these are starting to be resolved. Firstly, though, the internet is designed as a lossy and imperfect network, now much data communication is transferred over IP over ATM networks that are high bandwidth and far less prone to network errors than other protocols. Also, open source competitors are starting to join the industry with prices starting as low as free.


ive had some pretty good experiences with gotomeeting as well, have a look at my dimdim review for more
yeah its my fave too, shame you cant keep getting the free trial over and over
yeah i used mikogo before some of the others starting offering mac services, its not bad
I have used GoToMeeting, TeamViewer, LogMeIn and remote access from Proxy Networks and I think Proxy comes out on top. They also have a free demo available and I would definitely advise people to download it and take it for a whirl. They fly a bit under the radar, but I think the quality of the product will put them at the top of many people's lists once they give them a look.

Locked Topic
You must be a member to post in this forum